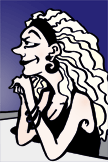 The chief bartender at
Dunsany's
. An aging southern belle who claims she's one of the founding members the New Orleans Goth scene (
of course she also claims she slept with the man Anne Rice based Lestat on so it's best to take it with a grain of salt)
She enjoys sassing her boss and watching the ongoing drama around her.
Reference
Edit
1 First Appearance
2 Compares notes with Blossom
3 Meets Kate
4 Makes Kate's Halloween costume
5 Calls out the reserves.
Ad blocker interference detected!
Wikia is a free-to-use site that makes money from advertising. We have a modified experience for viewers using ad blockers

Wikia is not accessible if you've made further modifications. Remove the custom ad blocker rule(s) and the page will load as expected.