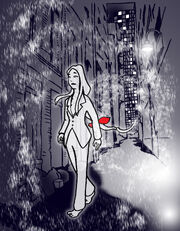 An embodiment of cold, winter and death by exposure in
Japanese folklore
, Yuki was first seen managing the
Heart of the Storm
facility during Kevin's second Christmas dream. Later he ran into her again wandering the alleyways downtown.
Reference
Edit
1 First meets Kevin in the Heart of the Storm
2 Seen walking down an alleyway.
Ad blocker interference detected!
Wikia is a free-to-use site that makes money from advertising. We have a modified experience for viewers using ad blockers

Wikia is not accessible if you've made further modifications. Remove the custom ad blocker rule(s) and the page will load as expected.